Profile Bobbin Mounts are ideal for applications where high dynamic forces are applied, particularly where applications require high Shear/Compression. The oversized end metals allow for an improved bonded interface between the rubber & metal, to increase the fatigue life when the parts are used for high dynamic applications.
Vibratory rollers.
Sieves and Grading equipment.
Industrial Machinery including diesel engines.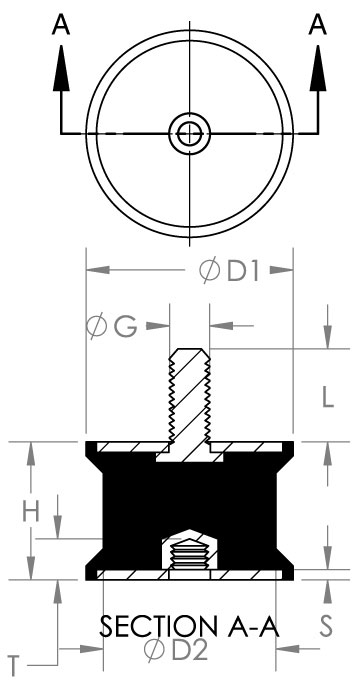 H = Height
L = Thread Length
D1 = Mount Diameter
D2 = Mount Center Diameter
G =Thread Size
T = Thread Depth  
S = Metal Thickness
| | | | | |
| --- | --- | --- | --- | --- |
| Article No: | B (mm) | H (mm) | L (mm) | S (mm) |
| BRMD2525 | 25 | 25 | 1500 | 5-10 |
| BRMD2530 | 25 | 30 | 1500 | 5-10 |
| BRMD3030 | 30 | 30 | 1500 | 5-10 |
| BRMD4020 | 40 | 20 | 1500 | 5-10 |
| BRMD4035 | 40 | 35 | 1500 | 5-10 |
| BRMD4045 | 40 | 45 | 1500 | 5-10 |
| BRMD5035 | 50 | 35 | 1500 | 5-10 |
| BRMD5040 | 50 | 40 | 1500 | 5-10 |
| BRMD5045 | 50 | 45 | 1500 | 5-10 |
| BRMD5050 | 50 | 50 | 1500 | 5-10 |
| BRMD5055 | 50 | 55 | 1500 | 5-10 |
| BRMD6030 | 60 | 30 | 1500 | 5-10 |
| BRMD6035 | 60 | 35 | 1500 | 5-15 |
| BRMD6050 | 60 | 50 | 1500 | 5-10 |